Pilates Adaptations for People with Scoliosis Supporting the Teachings of the Schroth Method
When
: 23, 24 & 25 August 2019

Where
: The Balance Physio Pilates – Bangkok (Thailand), Interchange Building – Asoke BTS Station

Price
: US$1,100.00
---
What is Schroth Method?
The scoliosis exercises are designed to reverse all of the abnormal curvatures with a variety of means, based upon the therapist's analysis of a patient's muscle imbalances. Christa Lehnert-Schroth writes in her book:
Scoliosis is characterised by a more or less pronounced change in the balance of forces, starting already in the feet, legs and hips, with inequality of muscles in terms of length and size. The greater the deviations from the midline, the longer the affected muscles become and the more volume is lost. They become flaccid and finally inactive. They lose their supportive function. Shape changes are only possible because the muscles permit them to happen. They become longer or shorter depending on the direction in which the trunk is moved and rotated. In other words, deviations of the trunk to the side or backwards can only develop if the corresponding supportive muscles give way and become elongated.
Therefore, treatment must improve posture so that the body can regain its original vertical axis. This can only happen by developing and training the corresponding muscle groups responsible for upright posture. To restore muscular balance, those muscles that have grown longer must be shortened and those that have become shorter must be lengthened. In order for these to be able to hold the spinal column and ribcage in their normal vertical position again, they need to be strengthened — and on both sides. It is absolutely essential that the inactive, shortened muscles perform strength work in the lengthened state.
What is The Scoliosis Research Society?
The Scoliosis Research Society (SRS) is an international society that was founded in 1966 with 37 members. It has gained recognition as one of the world's premier spine societies. The SRS has maintained a commitment to research and education in the field of spinal deformities. Strict membership criteria ensure that the individual Fellows support that commitment. Current membership includes more than 1,000 of the world's leading spine surgeons, researchers, physician assistants and orthotists who are involved in research and treatment of spinal deformities.
Course Description
Time Schedule:
Friday 23 of August: 9am to 6.30pm
Saturday 24 of August: 9am to 6.30pm
Sunday 25 of August: 9am to 5pm 
The Scoliosis Research Society recognizes Physiotherapy Scoliosis Specific Exercise (PSSE) including the Schroth Method as a viable conservative approach to treating Idiopathic Scoliosis (IS). Adults with IS often choose Pilates-based exercise as their fitness option because of its emphasis on neuromuscular re-education, mind body awareness and breathing – concepts shared with Schroth PSSE. This 1-day course presents theory and evidence behind conservative care for IS and introduces modifications to Pilates exercises based on the evidence supporting Schroth PSSE. ***This course is also the pre-requisite for the 2 day lab course: Pilates Adaptations for People with Scoliosis.***
---
This 2-day course expands upon the theory and evidence supporting conservative care for Idiopathic Scoliosis (IS) presented in the introductory course and includes conservative care for thoracic hyper-kyphosis. This course features dynamic skills labs that focus on assessing the Pilates client with IS and thoracic hyper-kyphosis and focuses on modifying Mat Pilates exercises based on the evidence supporting Physiotherapy Scoliosis Specific Exercise (PSSE) and the teachings of the Schroth method. Introduction to Pilates Adaptations for People with Scoliosis is a pre-requisite for this course.
Format: 1:4 Lecture:Lab
Course Objectives: By the end of this course the student will be able to
 Identify curve types and the forces that promote IS curve progression
Understand forces promoting thoracic Kyphosis
Provide an overall assessment of the Pilates client with IS and thoracic hyper-kyphosis to determine best exercise selection
Improve breathing strategies for the client with IS and thoracic hyper-kyphosis
Modify Pilates Mat exercises for the client with IS and thoracic hyper-kyphosis to support safe spinal alignment
Understand how Mat modifications can transfer to Pilates apparatus exercises
Understand scope of practice and how the PSSE/Schroth trained physical therapist and Pilates instructor can collaborate for the benefit of the client with scoliosis and thoracic hyper-kyphosis

 
Course Instructors: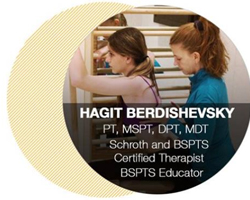 Hagit Berdishevsky,
PT, MSPT, DPT, MDT Cert. Schroth-Barcelona Institute Educator
Lise Stolze,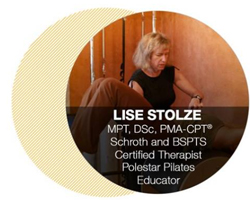 Lise Stolze,
MPT, DSc, PMA®-CPT Schroth-Barcelona Certified Therapist Polestar Pilates Educator
Course Participants:
Pilates instructors
PSSE/Schroth trained physical therapists
Physical therapists
Scoliosis patients using PSSE/Schroth Method